Nantucket, MA

Open Days
The gardens at 110 Wauwinet Road are reflective of its place in time, architecture, and utility. Tree, shrub, and perennial plantings are integrated into the natural landscape. Walkways and lawn space allow for free movement throughout and provide a clear view of the inner harbor and sunset. A collection of scented plants and fruit grow inside the 18th-century-style glass house. An enormous native oak, typical of Wauwinet, dominates the back of the Queen Anne-style residence.
Directions: From town, get on Milestone Road and turn left at Island Lumber (Polpis Road). At end of Polpis Road, turn left onto Wauwinet Road. As you pass gatehouse to Great Point area, make an immediate left at #110 (see huge numbered rock) or park in gatehouse lot.
Open Days 2018: July 12
Hours: 10 a.m. to 4 p.m.
Admission to this garden is $7 for members and nonmembers without tickets purchased in advance.
Buy discounted admission tickets in advance! They can be used at most Open Days to make garden visiting easier.
Nonmembers get 6 visits for the price of 5 with advanced ticket book purchase.
Members get 50% off ONLY by purchasing ticket books in advance.
This is a new garden
This garden allows photography
This garden is handicap-accessible
---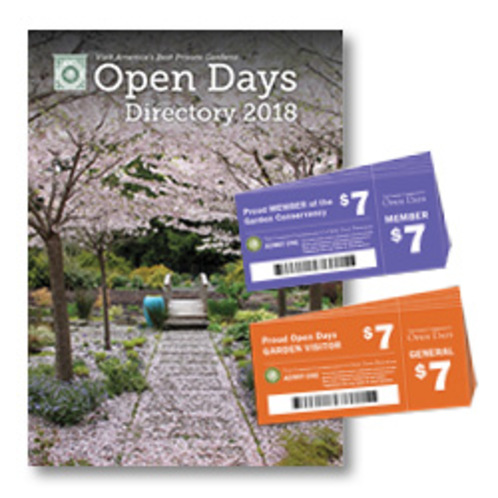 Order Books & Tickets!