Garden of Bernard Marquez & Tim Fish
South Salem, NY

Open Days, Water feature
The garden, recently featured in Garden Design magazine, is a hybrid of discipline and fun! It consists of several garden rooms that flow harmoniously into each other on different levels. Existing natural stone outcrops accentuate many of the spaces. The various garden compositions utilize conifer cultivars and broad-leaf evergreens including a variety of boxwoods, some uncommon in the Northeast, as the main structural elements. A koi and orf pond, considerable stonework, and views of the Pound Ridge Reservation and Lake Kitchawan are highlights. Annuals, perennials, artifacts, water features, and containers complete the experience. The gardens make creative use of what was difficult terrain.
Directions: From the west take I-684 to Exit 6/Route 35. Go east to Route 123, south to Mill River Road to Lake Kitchawan Road to Hemlock Road. All are one directional turns.
Open Days 2018: July 29; September 9
Hours: 10 a.m. to 6 p.m.
Admission to this garden is $7 for members and nonmembers without tickets purchased in advance.
Buy discounted admission tickets in advance! They can be used at most Open Days to make garden visiting easier.
Nonmembers get 6 visits for the price of 5 with advanced ticket book purchase.
Members get 50% off ONLY by purchasing ticket books in advance.
This garden allows photography
---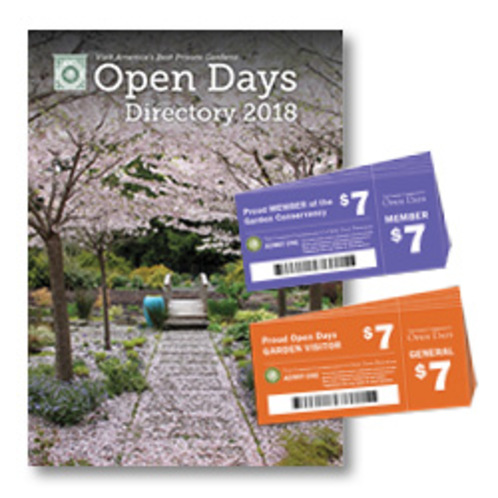 Order Books & Tickets!