Eric Stewart and Dr. Michael Sheran
Accord, NY

Open Days
The garden is twenty-plus years old, with numerous raised beds filled with deer-resistant plantings of herbs, shrubs, flowering trees, native species, grasses, perennials, and flowering spring bulbs. It covers about one acre, and with lawns, meadows, and woodlands totals seven acres (three of them maintained). Gardens surround a restored farmhouse and carriage house circa 1840. There is a solar array. The property is in a rural, woodland setting with numerous mature trees and an abundance of wildlife.
Directions: From New York State Route 209, turn onto County Route 2, passing through Town of Kripplebush. Go 2 miles and take a left onto Lower Bone Hollow Road. Go approximately 2 miles, then take a left fork onto Wynkoop Road. Go approximately 0.25 mile. House is on corner of Wynkoop Road and Mary Davis Road. Look for the red barn on the left. Parking areas can accommodate 5 to 7 cars, plus on-street parking.
Open Days 2018: September 23
Hours: 10 a.m. to 4 p.m.
Admission to this garden is $7 for members and nonmembers without tickets purchased in advance.
Buy discounted admission tickets in advance! They can be used at most Open Days to make garden visiting easier.
Nonmembers get 6 visits for the price of 5 with advanced ticket book purchase.
Members get 50% off ONLY by purchasing ticket books in advance.
This is a new garden
This garden allows photography
This garden is handicap-accessible
---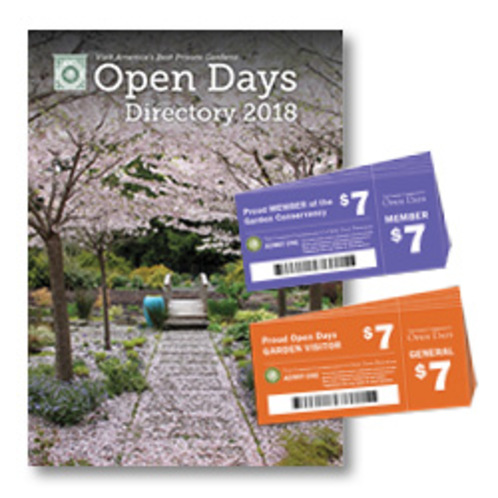 Order Books & Tickets!