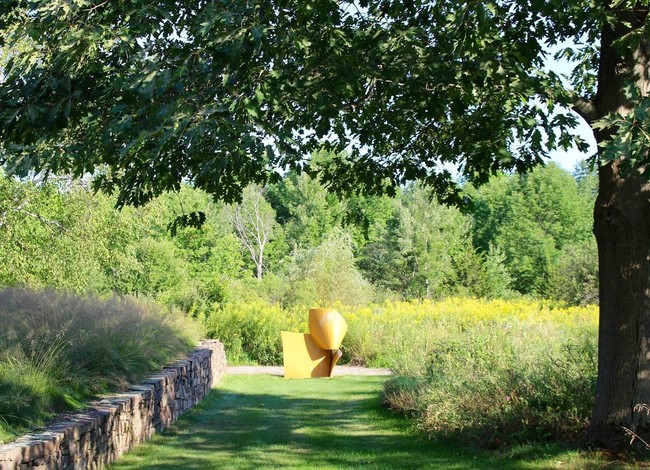 Stanfordville, NY

Open Days, Meadow, Garden sculpture, Digging Deeper, Open Days Special Program
We have been gardening here for over 25 years but instead of slowing down, we continue to make small changes, refining the design, renovating older plantings, and beginning new areas. One goal is to have interest every month of the year. High summer is the start of the dahlias and phlox and other perennials. Our carefully assembled collection of plants includes more natives every year. I love finding interesting native cultivars like Liquidambar 'Slender Silhouette' but also enjoy the thrill of searching out exotic rarities. A meadow of Sporobolus heterolepsis (prairie dropseed) frames "Windblown Couch," a sculpture by Vivian Beer. Robert Murray's "Willow" is next to the pond and "Portal" by Carla Edwards will entice you to take the path up a little hill. While I would definitely not call this a low-maintenance garden, we rarely water anything after the second year and fertilize only container plants. Compost suppresses weeds and feeds the soil without making it too rich. Consequently, in spite of all the very tall perennials, we need very little staking. The garden was included in Jane Garmey's book Private Gardens of the Hudson Valley.
Directions: From Route 82 north, pass firehouse in Stanfordville. Go 5 miles to Old Conklin Hill Road and turn right. You will come to a "T" very soon. Turn right again there. Now you are on Conklin Hill Road. Continue about 2 miles up hill. The garden is on right after a sharp uphill turn. Please pull into the field on left. The house and garden are on right.
Open Days 2019: July 27
Hours: 10 a.m. to 4 p.m.
Admission to this garden is $10 per person and children 12 and under are free.
Don't forget to buy discounted admission tickets in advance. They can be used at most Open Days to make garden visiting easier.
Nonmembers get 6 visits for the price of 5 with advanced ticket book purchase.
Members get 50% off ONLY by purchasing ticket books in advance.
This garden allows photography
---