Brewster, NY

Open Days, Edibles
Eastward boarding and training stable has been established for fifteen years, and its gardens have evolved. We now have some lovely, maturing specimen trees, Our dominant feature is five large mixed borders each dedicated to a color theme with abundant bloom throughout the season. In addition we have a 200-foot-long garden in the shade of our indoor arena featuring shade-loving plants, including many native woodland species. It is matched by a semi-formal sunny bed with an eclectic mixture of shrubs, perennials, and annual bedding plants. As a botanist, I have incorporated as wide a variety of different species as possible, in the various environments I can provide. A good number of specimen trees acquired over the last fifteen years are scattered throughout all the gardens, which total more than fifteen separate garden areas. A newer feature is a large enclosed decorative/practical vegetable and herb garden mainly planted in raised beds and containers which we are intensively cultivating for local markets.

There is a walking tour through the entire garden at 11:30 a.m. and again at 1:30 p.m. for anyone interested in detailed information about the plants and their culture.
Directions: From east, take I-84 to Exit 1/Saw Mill Road and turn right at end of ramp. Turn left at light onto Route 6 West. Go 1.5 miles and turn right onto Joe's Hill Road. Go 1 mile and turn right onto Reynwood Drive.
From west, take I-84 to Exit 20N/Route 22 North to first light. Turn right at Milltown Road, then 1.5 miles to a right fork onto Federal Hill Road (after small bridge). Go 0.25 mile and turn right onto Joe's Hill Road, then go 0.75 mile and turn left onto Reynwood Drive.
From south, take I-684 North to Brewster, go on Route 22 North, and proceed as directed above from west.
From north, take Route 22 South and turn left onto Milltown Road, then proceed as directed above.
Open Days 2018: September 9
Hours: 10 a.m. to 4 p.m.
Admission to this garden is $7 for members and nonmembers without tickets purchased in advance.
Buy discounted admission tickets in advance! They can be used at most Open Days to make garden visiting easier.
Nonmembers get 6 visits for the price of 5 with advanced ticket book purchase.
Members get 50% off ONLY by purchasing ticket books in advance.
This garden allows photography
This garden is handicap-accessible
---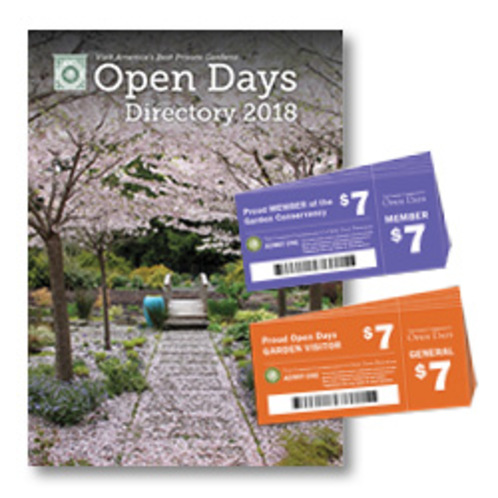 Order Books & Tickets!