Oakland, CA

Open Days, Garden sculpture
In the beginning, this was a full acre covered with giant eucalyptus, juniper, and ivy. It has been transformed into a garden paradise. My son, a landscape designer, worked continually with our crew to build stone walls, patios, pathways, a large koi pond, arbors, a shade house, and a nursery. My travels have inspired me to create lush and interesting plantings…graced with many friends' art, including that of Keeyla Meadows, Marcia Donahue, and Vickie Jo Sowell.
Directions: Take I-580 to Golf Links Road exit. Turn left up hill past Oakland Zoo and go 1.5 miles. Turn right onto Caloden, then right onto Malcolm, and left onto Lochard Street. Garden is 1.5 blocks on left. Park on street and please do not block neighbor's driveways.
Open Days 2018: May 12
Hours: 10 a.m. to 4 p.m.
Admission to this garden is $7 for members and nonmembers without tickets purchased in advance.
Buy discounted admission tickets in advance! They can be used at most Open Days to make garden visiting easier.
Nonmembers get 6 visits for the price of 5 with advanced ticket book purchase.
Members get 50% off ONLY by purchasing ticket books in advance.
This garden allows photography
This garden is handicap-accessible
---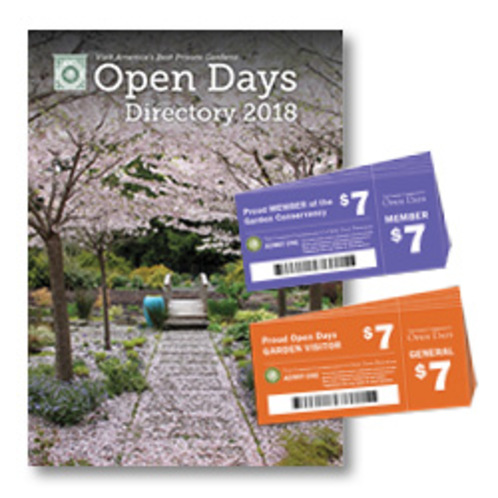 Order Books & Tickets!