Washington Depot, CT

Open Days
Appledore is a two-acre garden of shrubs, trees, and perennials that grew without a plan on the site of an old farm. Each year I would add another bed, avoiding straight lines and seeking to create vistas from every room of the house that would be pleasing in every season. Some of the beds have names: pool garden, birch grove, wood garden, crabapple meadow. Others are nameless, their character evolving according to the light and their neighbors. Much of what I have planted is unusual, but there are plenty of old favorites, too. After two decades some of the little trees have grown, older beds have required reimagining, and the more than three dozen kinds of daffodils have spread all over!
Directions: From the center of Washington Depot, head northeast toward CT-109 East. Turn left onto CT-109 West and head toward New Milford for 1.5 miles. Turn left onto Fenn Hill Road. Third driveway on right, 47 Fenn Hill Road.
Open Days 2018: September 9
Hours: 10 a.m. to 4 p.m.
Admission to this garden is $7 for members and nonmembers without tickets purchased in advance.
Buy discounted admission tickets in advance! They can be used at most Open Days to make garden visiting easier.
Nonmembers get 6 visits for the price of 5 with advanced ticket book purchase.
Members get 50% off ONLY by purchasing ticket books in advance.
---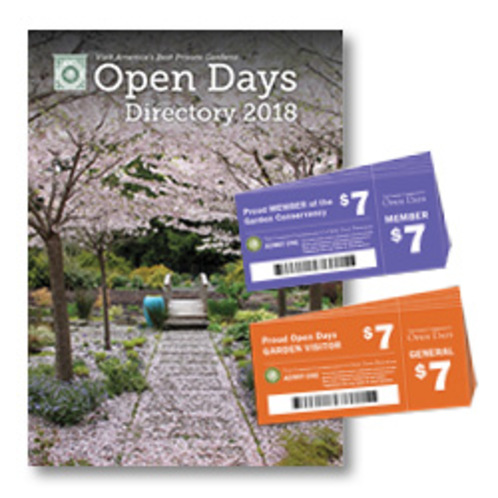 Order Books & Tickets!