Portland, OR

Open Days
I'm fortunate to be on a southwest corner lot in the Overlook Neighborhood of North Portland—lots of light even on cloudy days. The garden was in need of a major makeover five to ten years ago and Lucy Hardiman, Lauren Hall-Behrens and Fernando Espinosa made it happen. My garden has a lot of structural elements in it: paths, patios, fences, edging, grasses, and boxwoods all in a row. Also a lot of hardscape in my garden—being a geologist, I do like stone, and thankfully I found designers and craftsman to fix the errors of my past installations and create more nicer ones. Also metal—open format fencing around the lot that creates an open feel, but keeps Henry the black lab in the yard, as well as extruded steel steps leading to various parts of the yard that have weathered to a lovely rust color that plays off of the weathering of the Rocky Mountain quartzite sandstone flagstone in and around the yard. While there is a shady pathway and bamboo room on the north and east sides of the house with some unusual plants among the vine maples, hostas, epimedium, and ferns, most of the yard is relatively sunny with a kitchen garden full of tomatoes, peppers, basil, other herbs, and nasturtiums, raspberries, and blueberries, and a patio surrounded by purple pineapple lilies in the summer. Stop by and say "Hi!"
Directions: From South, take I-5 / I-405N to Exit 303. Turn right on North Interstate Avenue. Turn left onto North Killingsworth Street. Take second right onto North Campbell Avenue. Go one block and house is on the right on the corner of North Campbell Avenue and North Church Street.
Open Days 2018: July 14
Hours: 10 a.m. to 4 p.m.
Admission to this garden is $7 for members and nonmembers without tickets purchased in advance.
Buy discounted admission tickets in advance! They can be used at most Open Days to make garden visiting easier.
Nonmembers get 6 visits for the price of 5 with advanced ticket book purchase.
Members get 50% off ONLY by purchasing ticket books in advance.
This is a new garden
This garden allows photography
---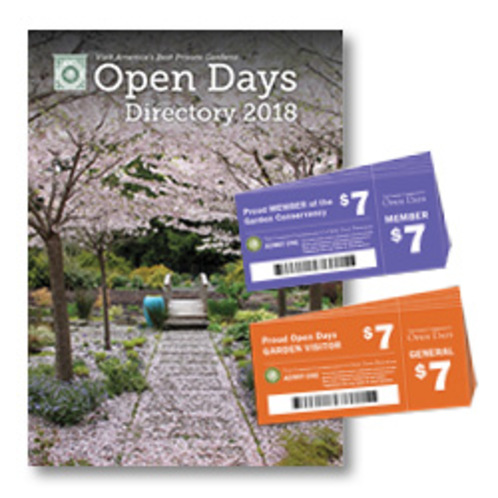 Order Books & Tickets!