Taghkanic, NY

Open Days
This garden, which won a Golden Trowel Award from Garden Design magazine in 2005, is nestled in the woods at the end of a country lane. It takes advantage of a widely varied landscape to create a series of informal gardens that attempt to exploit the beauty of the natural setting. The site contains woodland paths, which wander over bridges across a creek and past the remains of old stone walls and natural rock formations. Included in the gardens are sunny herbaceous borders, a rock garden, shade garden, and a park-like hillside garden. Out of sight but just over a rise is a path that leads to a swimming pond.
Directions: From Taconic State Parkway north, pass Route 82/Ancram/Hudson exit and go 1.6 miles. Turn right onto Post Hill Road (from north, turn left). Go 0.8 mile to a silo at Nostrand Road. Turn left and go 0.3 mile to Route 27 (no sign). Turn left and go 1.5 miles to Tibbet Road and turn left onto Tibbet.
From the light in Claverack take Route 9H South/Route 23 West. Go 1.1 miles and bear left where the sign reads Churchtown onto Route 27. Go 2.2 miles to Churchtown. At church bear left and go up hill beside church (continuing on Route 27). Go 1.7 miles to Tibbet Road. Turn right onto Tibbet, go to parking sign.
Open Days 2017: June 24.
Hours: 10 a.m. to 4 p.m.
Admission to this garden is $7 for members and nonmembers without tickets purchased in advance.
Buy discounted admission tickets in advance! They never expire and can be used at most Open Days to make garden visiting easier.
Nonmembers get 6 visits for the price of 5 with advanced ticket book purchase.
Members get 50% off ONLY by purchasing ticket books in advance.
This garden allows photography
---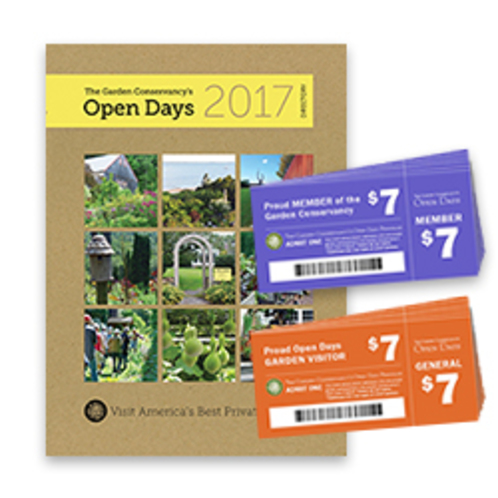 Order Books & Tickets!