Edgartown, MA

Open Days
The original parts of this house are believed to date from about 1840. A former occupant, Miss Frances Louise Meikleham, and her mother, who founded the Martha's Vineyard Garden Club, set out the sunken geometric garden in the shape of a Union Jack over fifty years ago. More recently, this flag bed was surrounded by hedges and a stonewall to create a "room" with wind protection. Throughout the garden, new beds have been added, others re-shaped, and the overall variety of the plants has been increased while maintaining the rather old-fashioned quality of the grounds. The garden designer Nan Sinton planned the garden's initial redevelopment in 1997. The hands-on owners from London are constantly making improvements. Currently, the garden is maintained by Edgar Avalino and his team.

Directions: The house is a short walk from town, and on water side of South Water Street. Wheelchairs can go down secret path with caution due to incline. No parking is available, except for handicapped people in no more than two cars.
Open Days 2017: July 8.
Hours: 10 a.m. to 4 p.m.
Admission to this garden is $7 for members and nonmembers without tickets purchased in advance.
Buy discounted admission tickets in advance! They never expire and can be used at most Open Days to make garden visiting easier.
Nonmembers get 6 visits for the price of 5 with advanced ticket book purchase.
Members get 50% off ONLY by purchasing ticket books in advance.
This garden allows photography
This garden is handicap-accessible
---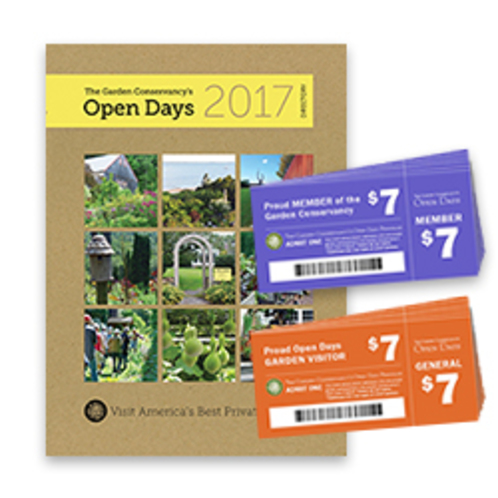 Order Books & Tickets!