Chilmark, MA

Open Days
Nature sets the theme for this rolling oceanside garden. A natural meadow extends from the house to the water's edge and subtle topography creates foreground views that compete for attention. Occasional glimpses of meandering inlets complete a compelling image of land meeting water. The garden, made up of layered masses of perennials, occupies the space immediately around the house and seems to flow naturally into the meadow. The plant palette was carefully selected for seaside conditions: plants are resistant to salt spray and heavy ocean winds. A mown grass path, invisible when viewed from the house, separates the perennial garden from the meadow, ensuring the meadow will not invade the garden and vice versa. Strategically placed boulders in the foreground tie the space visually to the ocean's rocky shoreline. The garden is designed to gently transition through a series of views that progress with increasing simplicity: from the intricate perennial garden to the natural seaside meadow to the beach and ocean in the distance.
Garden designed by Oehme van Sweden Landscape Architecture Firm.
Directions: From the West Tisbury Farmers' Market, head south on State Road towards Alley Way. Continue 2.3 miles. Turn left onto Osprey Lane. There is a large parking area on the left to park. The garden is a short walk down the 4th driveway on the right.

Open Days 2017: July 8.
Hours: 10 a.m. to 4 p.m.
Admission to this garden is $7 for members and nonmembers without tickets purchased in advance.
Buy discounted admission tickets in advance! They never expire and can be used at most Open Days to make garden visiting easier.
Nonmembers get 6 visits for the price of 5 with advanced ticket book purchase.
Members get 50% off ONLY by purchasing ticket books in advance.
This is a new garden
This garden allows photography
---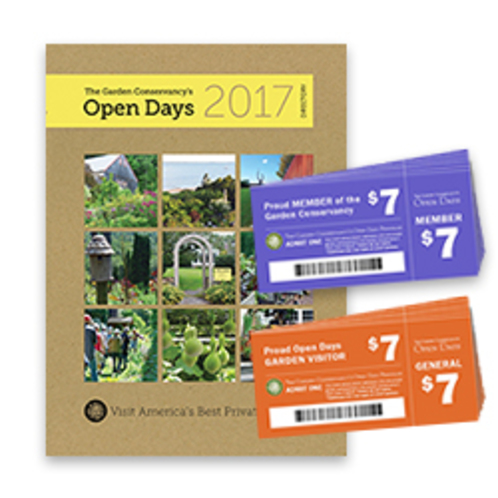 Order Books & Tickets!