Sheffield, MA

Open Days
The first garden you see while walking up the driveway is the "Rabbit Garden" so named for the wooden rabbit in its midst. This chainsaw carved animal is one of many on the property. Under the crab apple tree is a primrose garden. Walking up the stairs towards the house gives you your first view of the pond and waterfall area. From the deck, a series of stone steps and landings lead down past a rock garden to the patio and pond, home to goldfish and frogs. The patio fronts a mixed border of perennials, shrubs, and trees. From the screened in porch the pond and waterfall can be seen and heard. The woodland garden behind the house with its winding paths and many shade plantings is a cool retreat. The garden on the pool side of the house has a variety of butterfly and hummingbird plantings.
Directions: From the south, travel north on Route 41 from Salisbury CT. From the White Hart Inn in Salisbury drive north on Route 41 about 6 miles. Turn right (after passing into MA) on Kelsey Road (a dirt road). Proceed about 1.5 miles to a T and bear left. Number 1391 is the first house on the right. From the north, travel south on Route 41. From the Great Barrington police station proceed about 6 miles through the town of Sheffield and turn right onto Berkshire School Road. Take the first left onto Salisbury Road. Proceed through the turns in the road and take the first left onto Barnum Street. Proceed past the Transfer Station where the road turns to dirt and after 1 mile bear right onto Lower Barnum. After another mile bearing right, the house and gardens are on the left. From the northwest, go east on Route 23 from Hillsdale NY to South Egremont MA. Turn right onto Route 41 and go south about 7.5 miles. Turn left onto Kelsey Road (dirt), proceed about 1.5 miles to a T and bear left. The house and gardens are on the right.
Open Days 2017: June 24.
Hours: 10 a.m. to 4 p.m.
Admission to this garden is $7 for members and nonmembers without tickets purchased in advance.
Buy discounted admission tickets in advance! They never expire and can be used at most Open Days to make garden visiting easier.
Nonmembers get 6 visits for the price of 5 with advanced ticket book purchase.
Members get 50% off ONLY by purchasing ticket books in advance.
This is a new garden
This garden allows photography
This garden is handicap-accessible
---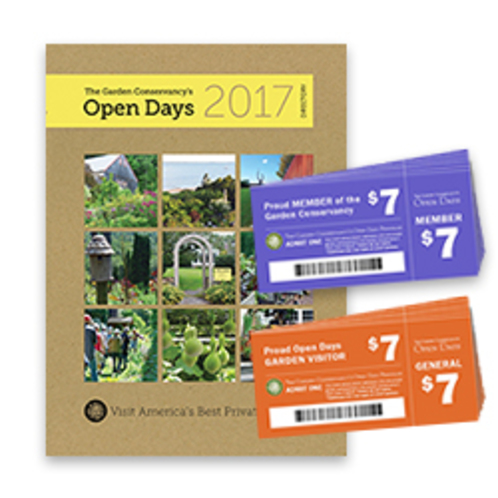 Order Books & Tickets!