We are busy putting together the 2018 Open Days season, garden by garden, region by region! We are especially pleased to report that, despite Mother Nature's best efforts to wash away houses and gardens this fall, both Jacksonville, Florida, and Houston, Texas, plan to participate again in 2018. Both of these Open Days promise to demonstrate how gardens—and people—can recover from natural disasters such as Hurricanes Harvey and Irma.
In Jacksonville, our Open Days partners at the Cummer Museum report that the historic Cummer Gardens sustained extensive damage. The three formal gardens, which are listed in the National Register of Historic Places, remained submerged for more than a day, resulting in the uprooting of plants, detached railing along the river, broken lighting, pervasive salinization of the soil, large amounts of debris, and significant damage to much of the physical infrastructure. The gardens contain many historic azaleas and other historic plants that are no longer commercially available, making reconstruction especially challenging.
In Houston, our Open Days regional representative Frank Brown says that most of the hurricane losses sustained by gardens were due to plants drowning after being submerged in water for five or six days. Eight feet of silt were deposited on a beautiful woodland garden in Buffalo Bayou, and several large trees were uprooted and carried away by the overflowing bayou. The garden owners quickly began digging out of the mud and, by October, were already putting in fall color. Frank adds that other friends who lost their homes nonetheless returned to tend their gardens so that they would be ready for their eventual return.
In addition to these two dramatic examples of resilience and revival, our 2018 Open Days season will welcome the return of several regions, including Tucson, Arizona; Saratoga, New York; and Bainbridge Island, Washington. We're also especially honored by the return of many long-time loyal friends and their constantly changing and evolving gardens in popular areas including Charleston, South Carolina; Los Angeles; Chicago's North Shore; and the Northeast.
All sorts of great gardens and garden ideas await you this year. The 2018 Open Days Directory is already in production and announcements of the year's schedule and programs will be distributed to our members and posted online in the new year. If, like us, you are garden curious, get your 2018 directory so you can get into Open Days gardens, get into conversations with Open Days gardeners, and get inspired by Open Days!
Here are just a few of the places you can find us in 2018:
CALIFORNIA
Los Angeles: May 6
Marin County: June 2
Mendocino County: May 5; June 2; June 23
Pasadena and Environs: April 22
San Francisco's East Bay: May 12
Santa Cruz: May 19
COLORADO
Aspen: July 14
CONNECTICUT
Fairfield County: May 6; June 2, 3 & 30; August 18; September 9 & 16
Hartford County: June 9 & 16; July 22
Litchfield County: May 12; June 2, 16 & June 23; July 14 & 21; August 26; September 9
New Haven County: June 16; July 22; September 9
New London County: July 14; August 25
DISTRICT OF COLUMBIA AREA: June 10

FLORIDA
Jacksonville: April 14
ILLINOIS
Chicago's North Shore: June 23; June 24; July 22
West Chicago: August 5
MARYLAND
Frederick County: June 2
MASSACHUSETTS
Berkshire County: June 24; July 21
Bristol County: June 3
Greater Boston Area: June 9
Nantucket: July 12
MISSOURI
St. Louis: June 16
NEW HAMPSHIRE
Merrimack Valley: July 14 & 15
Monadnock Region: June 16 & 17
NEW JERSEY
Bergen County: June 23
Essex County: April 15; May 5, June 16; September 8
Hunterdon County: July 14; August 4; September 9
Monmouth County: July 21
Morris County: May 5; July 14; September 8
Somerset County: May 5; September 8
NEW YORK
Columbia County: May 5; June 9 & 24; July 29; August 11 & 18
Dutchess County: May 12; June 16, 23 & 30; July 7 & 21; September 22; October 13
Eastern Long Island: May 6, 12 & 26; June 2; July 7 & 14
Greene County: August 4
Ithaca Area: March 24; July 7
Nassau County: May 20; June 3
North Country: July 21
Putnam County: June 10
Greater Rochester Area: June 10
Saratoga Springs: June 23
Ulster County: June 24; September 23
Westchester County: April 29; May 19; June 17; July 21 & 29; September 9
OREGON
Eugene: July 7
Portland: July 14
PENNSYLVANIA
Bucks County: May 26; July 14; August 4
RHODE ISLAND
Little Compton: May 26 & 27
Washington County: August 25
SOUTH CAROLINA
Charleston: May 26; June 2
TEXAS
Houston: April 28
VERMONT
Manchester Area: June 23
Upper Valley: June 17
WASHINGTON
Bainbridge Island: June 16
Please note: The 2018 Open Days schedule is still in formation and subject to change.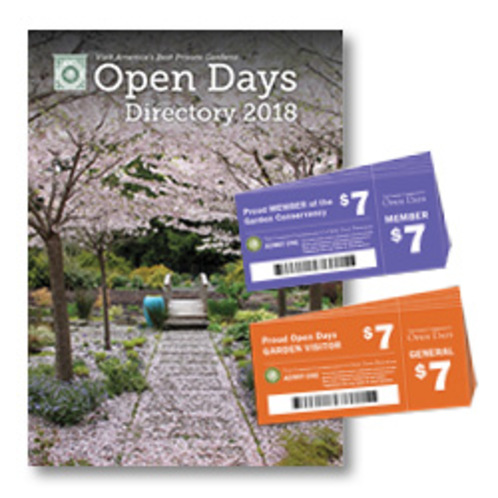 Order Books & Tickets!
Sign up for email reminders