A few highlights of media coverage of Garden Conservancy programs and those of our partners nationwide
HudsonValley360.com published an article, "Gardens Through History," highlighting Steepletop, Edna St. Vincent Millay's garden, and its recent Open Day. People "become aware that we exist because we're on the Garden Conservancy tour," reports Martha Raftery, Steepletop's director of visitor services.
Afterglow Farm, part of our Milwaukee Area Open Day on July 16, was featured in the July 9 edition of the Journal Sentinel, Milwaukee, WI.
On June 15, a Litchfield County Times article by Tovah Martin featured two Open Days hosts in Hillsdale, NY, who are participating in our August 19 Open Day. The same day, Chicago Tribune's Evanston Review also wrote about the June 25 Open Day in Chicago's North Shore.
The News Tribune in Tacoma, WA, reported on the status of the Chase Garden.
The May/June 2017 issue of American Gardener magazine includes a feature on Hollister House Garden, our preservation partner garden in Washington, CT.
The Boston Globe highlighted the West Roxbury garden of Christie Dustman, part of our Greater Boston Area Open Day on June 11. Separately, the Globe's magazine ran a feature profiling Maureen Ruettgers and her garden in Carlisle, MA, which will be open for an Open Day on September 9.

Congratulations to Pearl Fryar on receiving a 2017 National Garden Clubs Award of Excellence.
The Palm Beach Daily News reported on James Brayton Hall's departure from the Norton Museum to head north and join the Garden Conservancy as President and CEO on June 1.
DNAinfo.com posted the news about Piet Oudolf being selected to design the planting plan at the Jensen Formal Garden in Chicago's Humboldt Park.
GreatBigStory.com has posted an inspiring short video about Pearl Fryar and his topiary garden.
"It is, in a word, ethereal." Read the latest profile of the Chase Garden, from the May/June 2017 issue of Northwest Travel & Life magazine.
Garden Conservancy member, fan, and volunteer Laura Wilson talks about some of her favorite gardens and other highlights of the 2017 Open Days season in a "Cultivating Place" interview on April 6, 2017.
We are saddened to hear of the passing of Dorrance Hill Hamilton, a loyal supporter of the Garden Conservancy since our founding, and a leading patron of healthcare, education, and the arts—including her lifelong passion, horticulture. Read more in her obituary in the Philadelphia Inquirer.
Congratulations to Renny Reynolds and Jack Staub on having their garden, Hortulus, featured among the "Great Gardens Across America" in the spring 2017 edition of Garden Design magazine!
Our March 25 Open Day in Houston was featured in the Houston Chronicle on March 17 and 22.
The Ruth Bancroft Garden is third on a list of twelve "top spots for floratourism" in the country, per Country Living.
The January/February 2017 edition of First Coast magazine, Jacksonsville, FL, profiled "weekend warriors" Pam and Jake Ingram in Avondale, who were garden hosts for our Jacksonville Open Day on March 25.
The January 2017 edition of the UK Royal Horticultural Society's monthly magazine, The Garden, includes a nice book review of The Bold Dry Garden. Earlier in January, the book was also reviewed in Pacific Horticulture magazine and the East Bay Times reported that "Bancroft Garden preps for major upgrade."

An interview with Peckerwood Garden's horticulturist Adam Black on KLRU's Central Texas Gardener on Janurary 14, 2017, explains how new plants are introduced into the trade.
Media Queries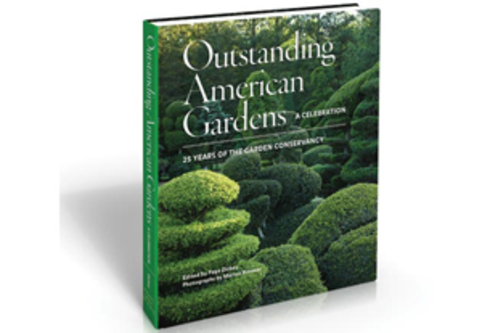 Our Silver Anniversary book is the perfect gift for gardeners!
"Outstanding gardens teach and inspire"
Read Martha Stewart's full letter from her March 2016 magazine