Distinguished Garden Properties for Sale
Note: This page includes garden properties connected with the Garden Conservancy's preservation or Open Days programs. It is provided as a courtesy to our partners and in support of our mission of saving outstanding American gardens. It is by no means a comprehensive or complete list of garden properties for sale.
Posted July 19, 2017:
Fenimore Road, Larchmont, NY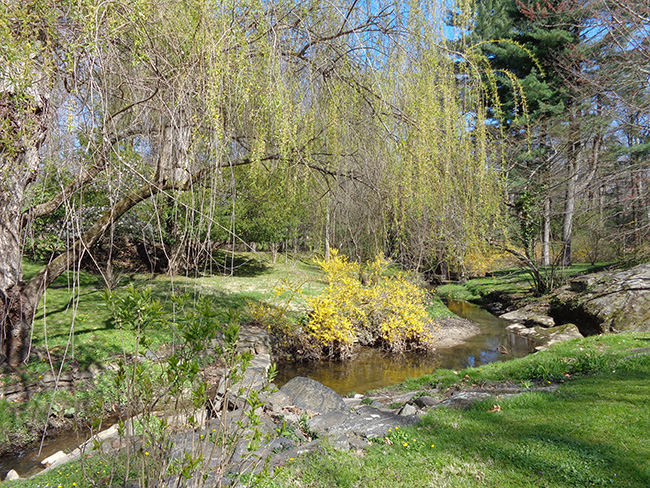 This unique Larchmont garden was designed in the 1930s by Ellen Biddle Shipman and enhanced in the 1980s by Lester Collins, the renowned landscape architect of Innisfree in Millbrook, NY. The garden consists of over six wooded acres of mature trees surrounded by dry stone walls. The neo-Georgian house, with terraces looking out over the garden, dates from 1927.
A stream flows though the undulating and rocky grounds over waterfalls designed by Shipman and Collins. Collins also created riprap to bring the stream into focus in the landscape. Large banks of native rhododendron provide privacy and separate spaces, with an elevated secret garden reached by a path of stone steps hidden by shrubbery.
Following the lay of the land with a perfect composition of rock, water, woods, and sky, this special American stroll garden encourages exploration. For further information, please contact barbara.rosenblum@juliabfee.com.
Posted April 6, 2017:
Princeville Botanical Gardens, North Shore Kauai, Hawaii

A remarkable botanical garden with stunning mountain, waterfall, and ocean views in a serene and peaceful setting complete with broad trails carved into terraced hillsides, expansive gardens, tapered valleys, flowing streams, and over 700 plant varieties. The property affords easy access to Hanalei Bay, Princeville, Anini Beach, and other attractions of the North Shore of Kauai. Includes a beautiful, craftsman agricultural building, as well as a site to build a new home and a guest house. This is a unique opportunity to reside in a world-class botanical garden located in one of the world's most beautiful locations.
For complete information about this botanical garden and estate, please visit www.PGBoffering.com or contact owner William Robertson directly at williamrobertson1008@gmail.com.
Posted July 27, 2016:
Meredeth and Leonard Allen's Garden, Francestown, NH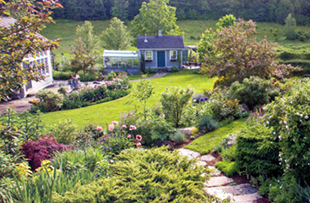 This "magnificent strolling garden" (as described by garden writer Tovah Martin) was part of a Garden Conservancy Open Day in 2010; the property is on the New Hampshire Register of Historic Places. Five herbaceous borders begin near a quarter-acre stream-fed pond, are backed by ancient stone walls and a quarter-acre woodland garden, and partially surround a bluestone terrace and garden cottage. A historic American elm and five giant locusts frame the 1779 classic Georgian colonial residence. For more information, please email ccambal-hayward@masiello.com.